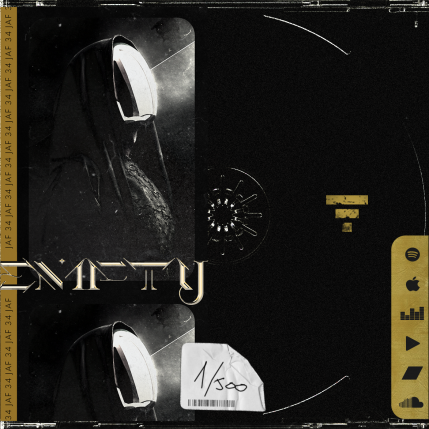 EMPTY
Album | 2021 | 6 songs | 34 min.
On this debut album JAF 34 created a hub, where was massive collaboration between members from other bands: Jakub Daš (Nikitin), Jirka Bendl (Manon Meurt, Mara Jade), Michal Hanáček (Baro Chandel), Petr Voruda (Baro Chandel), Oskar Pilař (Peter Pan Complex), Jakub Chaba (Peter Pan Complex), Vojtěch Filip or Petra Hanáčková. You can find here 6 songs in a lenght of 34 minutes.
21. 10. 2021
FUCHS2 LIVE: Křest alba Empty
FUCHS2
_S1_9385
FUTURE OF THE RHYTHM | mixed media | 2018 | canvas | 90x60 cm
This experimental photo project was created by inspiration of the early futurist artists and mainly of Etienne Jules Marey. Capturing movement in the late 19th century was so dynamically perfect and aesthetically strong that continues to this days. I decide to use for this dynamic capturing the best dancers from Czech republic: Tommy Pražák, Robin Šeba and Elmer Carvalho. For one reason, because street dance at this times has perfect rhythm and dynamic which reflect not only dance itself but all urban subculture and approaching of our all society. Photos were made on one shot. Photos are pure essence of few second movement of the dancer. No digital layering.